Dr. Kenneth Clark (Doc Brown's Inspiration) Helps Win Brown v. Board of Education 1954
In 1942 Kenneth Clark became the first African-American tenured full professor at the City College of New York. Dr. Clark also started the psychology department at Hampton Institute in 1942 and taught a few courses within the department. In 1966 he was the first African American appointed to the New York State Board of Regents and the first Afr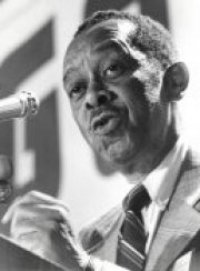 ican American to be president of the  American Psychological Association.Dr. Kenneth is best known for his expert testimony of he and his wife's (Dr. Mamie Clark) 1940s research experiments using dolls to study children's attitudes about race in the consolidated school desegregation cases known as Brown v. Board of Education.   Drs. Kenneth and Mamie Clark's doll research significantly contributed to winning this landmark case.  Brown v. Board of Education is acknowledged as one of the greatest Supreme Court decisions of the 20th century.
As a high schooler, Adolph Brown became enamored with the research of Dr. Clark.  Adolph followed the trail blazed by Dr. Kenneth Clark by double- majoring in psychology and anthropology and minoring in education at the College of William and Mary.  Adolph's ground-breaking post graduate studies were focused on "Dismantling the School to Prison Pipeline" and "The Effects of Communicator Similarity on Health Recommendations" using the research of Drs. Nathan and Julia Hare.  Adolph's doctoral dissertation has become a world-renowned study and resource: https://digitalcommons.odu.edu/psychology_etds/253/
As the first person in his family of five to graduate high school and attend college, it was only through Dr. Kenneth Clark's professional life and research did Dr. Brown learn of the possibilities of becoming a university professor.  Dr. Adolph Brown joyfully accepted the offer to lead the Hampton University Psychology/Education Department established by Dr. Clark.  Under Dr. Brown's leadership, the department became the number one producer of psychology majors in the country.  As a result of Dr. Brown's highly prolific research endeavors and teaching excellence, at 29 years old Dr. Brown became the youngest tenured full professor in the nation at that time.  He also received the "Master Teacher" designation upon receiving the prestigious E.L. Hamm Master Teacher Award from the Hampton University Board of Trustees, President, Provost, and University Faculty.  Dr. Adolph Brown credits Dr. Kenneth Clark for the blueprint for his professional success.